PARISH HISTORY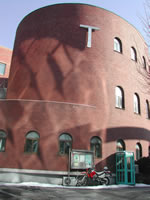 In the year 1978 Fr. Paulisen O.F.M. started to celebrate mass and other sacraments for the foreigners in Seoul at the Franciscan friary in Cheon-dong. When Fr. Paulisen left Korea Fr. James Murdoch S. MJ. took over and continued to celebrate there until February 1984 when he moved to the Korean Martyrs shrine in Choltusan.

But on July 1985 he had to move again to the actual site in Han Nam-dong in the chapel of S. Francis of the Conventual Friary.

In April 1987 even Fr. Murdoch had to leave Korea because of Health problems and the Cardinal Stephen Kim asked the order of Friars Minor Conventuals to take charge of the Parish and from that year through an agreement with the Seoul Diocese the order is responsible to run the parish that was officially erected.
Pastors:
John Paulisen O.F.M. 1978 ....1983
James Murdoch S.J. 1983....1987
Virttorio Di Nardo 1987 April.....1991
Paolo Faldani 1981 April...1994
Antonio Di Francesco 1994 March...1996
Paolo Faldani 1996 Dicember...1997
Vittorio Di Nardo 1997 August...2000
Giancarlo Faldani 2000 September....